An informal, 'bloggish' report by Richard Hopper: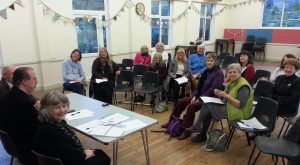 The St Gluvias Community Hall Association met in the Hall on Friday 15th April at 6pm for its very first Annual General Meeting.  About twenty of us were there, with  eight of the regular groups represented at the meeting. Quite a few couldn't make the date.
The Chair – Fr Stephen Wales – welcomed us all.
We next heard reports from Sue Harris, Hall Treasurer and from Annie Jones, Hall Secretary. All's well on a daily basis, financially. Sue promised to speed up on invoicing regular groups. Annie gave us an update on what the Hall Management Group had been up to during the year. The main focus has been and will be the finding of new monies for developments.
Elections to the Hall Management Group next. (Check out our Constitution under Governance).
from the PCC (Church Council):
Annie Jones
Roderick Dare
Jackie Dare
Richard Hopper
from Hall Groups (representing all groups):
Jane Cross
Jenny Gluyas
Sue Harris
Jan Webb
The first meeting of the new Hall Management Group is on 28th April.
Future Developments
We heard next from two people proposing new, distinct activities in the Hall to benefit the wider community:
Josie spoke with passion and enthusiasm about the unfolding plans for Fair Share, the productive use of surplus food. We've already taken delivery of two 'pre-loved' freezers for storage – now located in the 'Green Room'. Use of them awaits the kitchen upgrade.  Once done, the team – which includes Andrew who couldn't be with us – will offer meals in the Hall, for which diners will offer a donation or appropriate service in return.  All this will swing into action once the new kitchen is done. The kitchen design team meets next on Monday 18th May.
Xenobia spoke with comparable passion and enthusiasm about a workshop for creative writing. This launches on Monday morning, 25th May.
A number of points came out of the stimulating discussion generated by these two speakers. [more to follow].
Hall Development Fund
Fr Stephen asked the PCC Treasurer (Richard Hopper) to consider how to structure the Hall Fund to allow monies to be set aside not only for development of the building but also to fund the ongoing needs of important ventures of social justice such as Fair Share.
Richard mentioned briefly the forward planning that, it is hoped, will shortly launch fundraising for the two 'access' projects: the step-free pathway and the disabled toilet, as well as the new roof to bring energy-saving sustainability.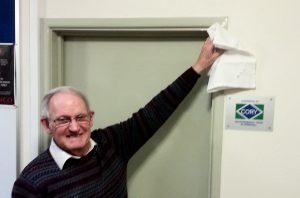 The Cory Environmental Trust plaque
Then Paul Longford, Chair of Cory Environmental Trust in Cornwall, unveiled the plaque which  their grant commemorates their grant towards our new windows.
After all that the cheese and wine Reception, during which friendships were made and renewed, ideas explored and points exchanged about this venture – the St Gluvias Community Hall Association – which is growing beautifully!
Points
Really good event!
More diary notice needed, next year.