Perhaps you're looking for the Bookings Calendar?  …
but could you help us first with your vote?       …  or SKIP this page…

Battery Storage grant – competition!
We need your vote to win!
St Gluvias Hall is in the 2017 M&S Community Energy Fund competition for a grant for battery storage. We need your vote to win. Winning will help us keep fees affordable, year-on-year.
This Saturday, 23rd Sept, M&S stores up and down the country are welcoming projects into their midst. Our project will be in the Falmouth store in Market Street, 11.00 – 2.00.
Please call in, especially if you've been experiencing difficulty voting (for any reason).
Or… (right now)…
Go to our project at: M&S Energy Fund
and vote there (for free) for our St Gluvias Community Hall Energy Storage project.
A battery storage system will work with our solar panels to help keep the hall affordable into the future.
You can watch our lovely video here or there.
And you can download a flyer here for your friends, or…


Tweet: @stgluviashall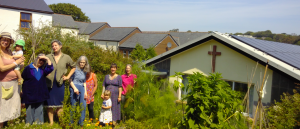 Now, please, feel free to explore the Bookings Calendar!